Trees, Shrubs, and Landscaping

Trees are important in any layout. They underscore the scale and relationship between trains and buildings and add a touch of realism. Making a safe and durable tree presents a challenge, but upholstery fabric gathered on a carriage bolt with a padded top works well. A sewing machine with a sturdy needle and a strong fabric punch are essential. The tree trunk can be wrapped with a brown or dark grey fabric sleeve and the finished tree bolted to the table. Shrubs can be made in the same manner. Plant a group of trees for best effect.
With a model railway, trees are small and it doesn't take much fabric. Look through the remnants at your local fabric store for greens, yellows, and reds - a couple of yards will make a dozen or more trees depending on the weight of the fabric. Carry samples of what you have on hand to find complementary colors and styles.


The following provides a summary of the materials needed and steps involved in making trees. If your fabric is unusually thick, fold it into just three plys instead of four. If the cloth is light, plan on five or six plys.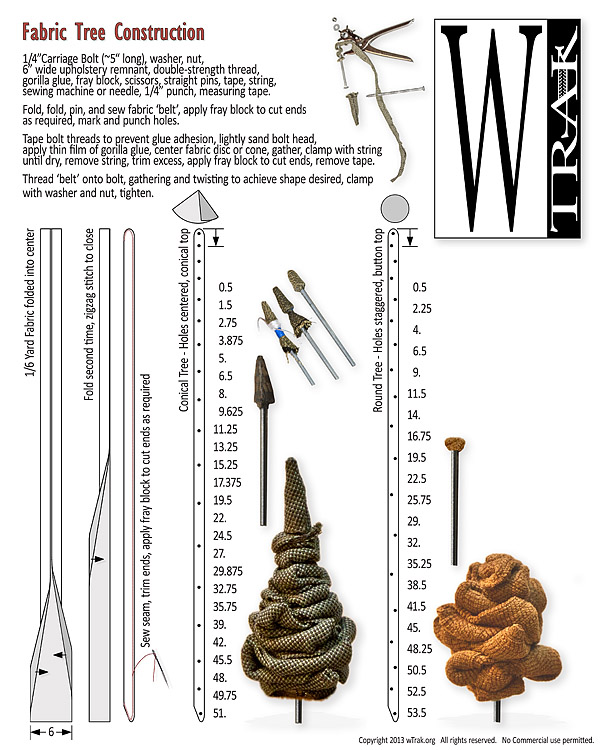 Tree Fabric

Amble - Shrub

Chroma - Moss

Concord - Breeze

Lexicon - Green Sand

Lindley Park - Pistachio

Masquerade - Lemon Grass

Medium - Prospect

Salvage - Dandelion

Sierra - Butterscotch

Sierra - Tomato

Soleil - Color 31

Spotlight - Red Carpet

Stacks - Sod

Trout - Willow Creek

Union - Redwood

Zia - Wheat

www.newtoto.com
Landscaping and other Features

Landscaping and fields can be simulated with coir mats (coconut fiber) or wool carpet. These can be sheared for effect. Wool and hemp carpet remnants might be found locally... Many sources exist for natural fibers in a variety of colors and textures online too.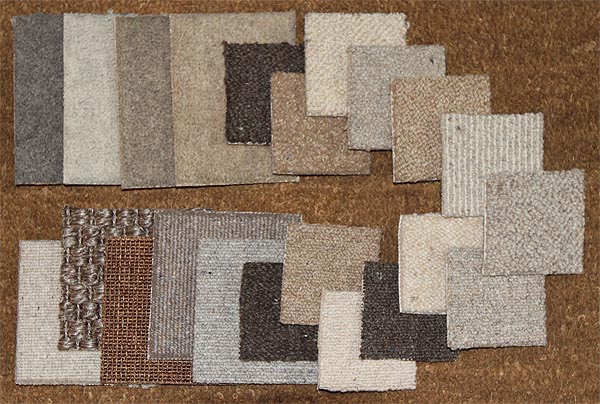 www.earthweave.com

www.nontoxic.com/purewoolcarpets

www.floorganics.com

www.sisalcarpet.com

www.naturescarpet.com
Coir mats have a distinctive texture and come in many thicknesses - including 1/2", 5/8", 3/4", 1", and 1-1/2". Coir is really hard to sculpt. Carpet shears or sheep shears might be effective and streamline the process. But coconut fiber is resilient and very hard wearing...
Coir Mats

1/2" x 18" x 30" Coco Coir Mat - Natural

3/4" x 18" x 30" Coco Coir Mat - Natural

1" x 18" x 30" Coco Coir Mat - Natural

www.cocomatsnmore.com